Bucker News
| | | | |
| --- | --- | --- | --- |
| Fascination Bücker Aircraft | | | |
Written by Administrator
Thursday, 05 December 2013
Klaus-Jochen and Christophe Rieger have been sharing pages from thier book over a year and I for one became so used to seeing these posts that I completely missed the anouncement that the book is ready for publication and that orders may now be placed. Here is a copy of the announcement for others that may have missed it.


The book will not quite be ready for Christmas, but will ship early in the new year. Consider that copies of Die Bucker Flugzeug now change hands for ten time the original sale price! - Just sayin'.





Book publication

Fascination Bücker Aircraft

authors: Klaus-Jochen Rieger, Christoph Rieger

Former naval pilot C.C. Bücker returned to Germany in 1933 after 10 years of productive work in the Swedish aviation industry, and founded Bücker-Flugzeugbau (Bücker Aircraft Works) in Rangsdorf, near Berlin. With his chief-designer A.J. Anderson he started building light aircraft. The Jungmann and Jungmeister were the most popular and well-known of these. Agile and efficient biplanes, they were capable of advanced aerobatics . The Bestmann was a two-seat, low wing, and more up-to-date model. Their common trade marks were sparkling aerobatic performance and international sales success. The bosses at the Rangsdorf factory were not well connected with the political leaders of the Deutsche Reich, but with the help of former fighter-pilot Ernst Udet, these aircraft became the basic training, practice and aerobatic aircraft for the Luftwaffe. More than 6000 Bücker aircraft were built, but only a few of them survived the fall of the third Reich. Before and after WW II construction was licensed in several countries, and today these old-timers enjoy a great popularity worldwide. In 1970 C.C. Bückers launched renewed production of the Jungmann and Jungmeister, but this was not successful and was soon discontinued. Prior to the turn of the century another attempt to produce a "new" Jungmann was initiated in Poland. The results of this possibly bilateral project remain to be seen.

In more than 400 pages quite an amount of technical information to both aircraft from Rangsdorf and those built under license are described in detail with numerous pictures throughout the history of the planes. Reports of modifications as well as restorations are included. Fascination with Buecker aircraft of pilots or spectators at the airfields is still alive and is reflected in this book. With the support and knowledge of the Buecker communities, many interesting details or stories are covered.

ISBN: 978-3-9814124-1-3

Estimated publication date: 1.2014

Click here to place an order!



---
| | | | |
| --- | --- | --- | --- |
| Brian's Jenny takes to the air | | | |
Written by Administrator
Saturday, 30 November 2013
Brian Karli's Curtiss JN-4H flew for the first time yesterday, Novermber 29th 2013 and how beautiful she looked (and sounded.)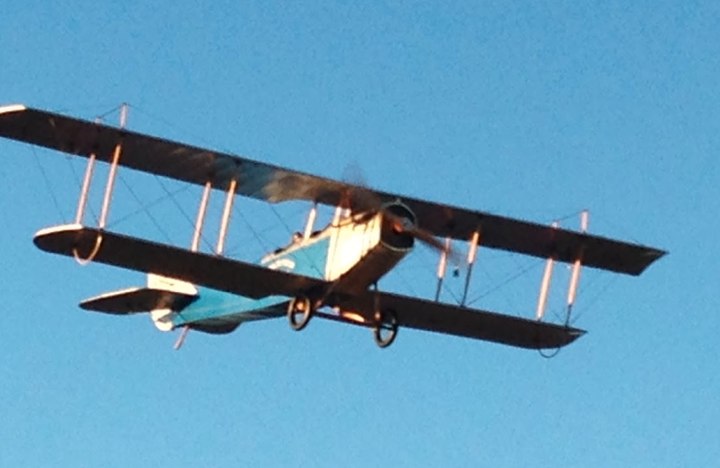 The Jenny was constructed in and around Brian's home near Atlanta, Georgia and is powered by a 200 HP Hispano Suiza engine. Pretty much the same engine you would have found in an SE5a of the Royal Flying Corp over the trenches of Ypres or the Somme in the summer of 1918.

Ron Alexander, and a host of local volunteers worked with Brian over a period of 7 1/2 years to go from this motley collection of parts: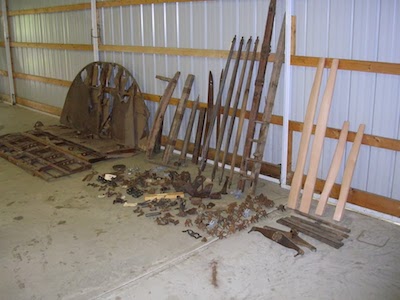 To this most beautiful treasure: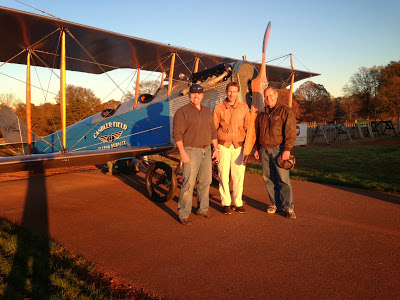 You can see much more about the project, and listen to the sweet Hisso music on Bian's blog here:

http://www.curtissjennyrestoration.blogspot.com/

Very many cogratulations Brian and team.

---
| | | | |
| --- | --- | --- | --- |
| More details of the Len Elmendorf Jungmeister | | | |
Written by Len Elmendorf
Saturday, 23 November 2013
I had the cowl off changing the oil today. I thought I should send you a couple of photos of how it came out. The cooler is the biggest one Aircraft Spruce sells with two 3" ducts going to it. Then when I was in California I saw that Joe's version did not have the bottom front baffle so I came home and put a couple of big holes in mine to cool the exhust and some hoses. Maybe overkill as the highest oil temp so far has been 195 on a 98 degree day.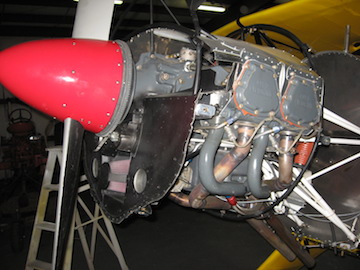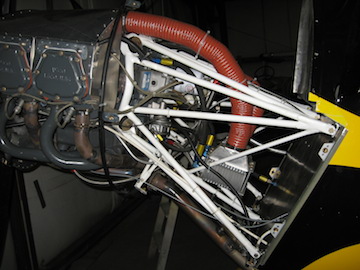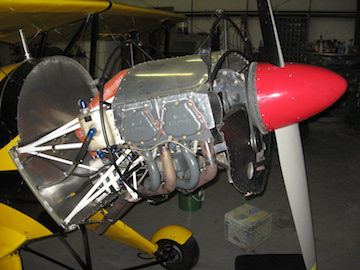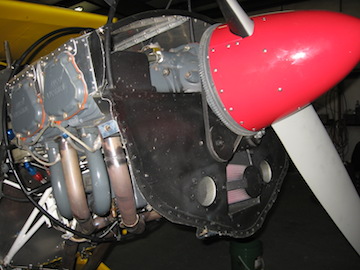 ---
| | | | |
| --- | --- | --- | --- |
| New Bucker Added to Gillespie Stable | | | |
Written by John Hickman
Saturday, 23 November 2013
Here is the news from San Diego. We have yet another Bucker in our fleet. I think that makes 14 in all at Gillespie Field if I count correctly (9 Jungmanns and 5 Jungmeisters).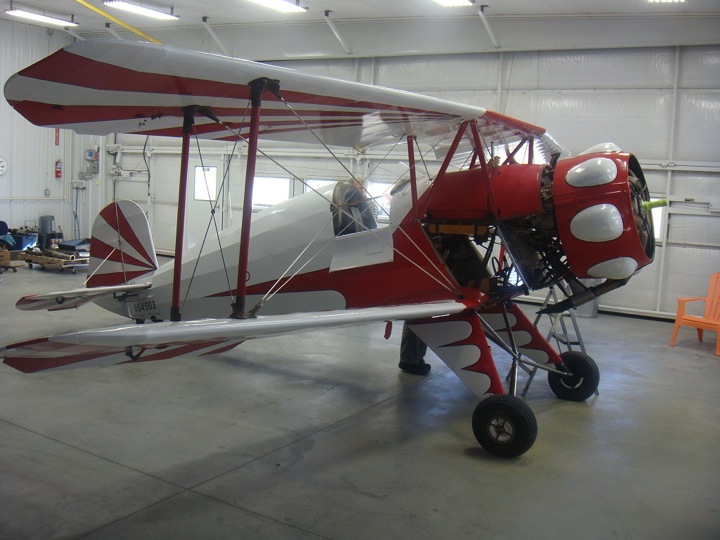 N53504 Flugzeugwerk Altenrhein (

Dornier) #41, formerly U-94



Here is the story: A couple of years ago, Chris Overson, Dave Stillinger and I were coming back from the Blakesburg fly-in in our Jungmanns and stopped for fuel at a small airport in Kansas. While at the fuel pump, a local gentleman told us there was "one of these" (Buckers) in a duster hangar across the field. In the middle of Kansas? No way! We would know about it!.... We dismissed it as mistaken identity for a Starduster or Pitts and went on our way. Last spring, at a Stearman fly-in, I ran into a Stearman pilot that said he had a friend in Kansas that owned a Jungmeister. I then told him the story of our stop on the way back from Blakesburg. The Stearman pilot shared his friends name and email address. I then filed the information away.

A few months ago, my friend Dave Stillinger told me he would like to find a Jungmeister to share his hangar with his Jungmann. I decided to help out by pursuing the information I had on the Kansas Jungmeister. I was surprised when I received a reply back from the Kansas owner who was a crop duster. He owned several airplanes including Bearcat, Sea Fury, Yak, P51, Waco, a D18 and 3 dusters and, of course, the Jungmeister. The owner informed me that the Jungmeister had not flown in several years and that the engine was sick. In subsequent emails, he hinted that he really did not have time to fix and enjoy it. He suggested he should find a good home for his Jungmeister. Not just any home, but he wanted his Jungmeister to go to someone that would conserve, care and appreciate it. I replied that I had just a home for his Jungmeister and hooked him up with Dave. With only two photos to go by and sight unseen, a deal was made and Dave owned a Jungmeister.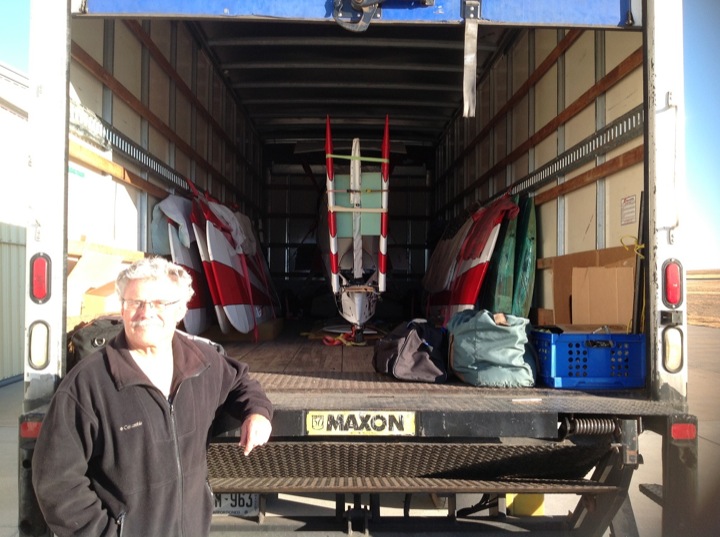 Last week, Dave and I set out in a Budget rental truck on a 2600 mile round trip to pick up the Jungmeister. It was a very pleasant surprise to find the Jungmeister to be in very complete original condition. Although the engine was sick, it was a fairly low time Siemens engine. Dave and I, with the help of the duster pilot and his crew, disassembled the Jungmeister, put it on the truck and drove back to San Diego.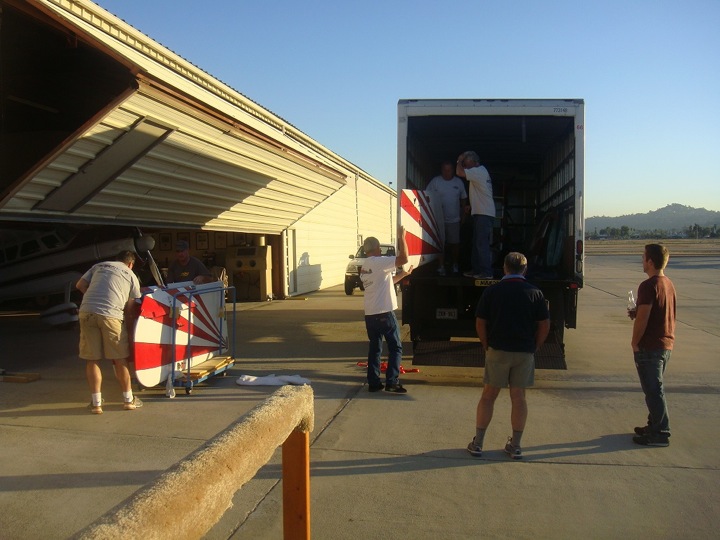 Dave's plan is to put the Jungmeister back together and then Dave and I will take a look at the engine. Since it was spewing a lot of oil out of the breather, I suspect Dave's Siemens has a case of bad piston rings. That should be an easy fix. We will let you know how it turns out.

---
| | | | |
| --- | --- | --- | --- |
| Bücker Fly-In Albstadt-Degerfeld EDSA 13./14. September 2014 | | | |
Written by Hermann Diebold
Sunday, 10 November 2013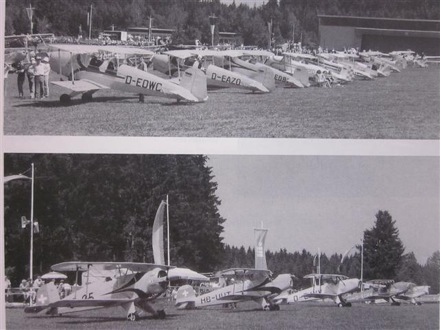 (

Deutsche Version

weiter unten)

To all Bücker Enthusiasts
We are starting the revival of the legendary Bücker fly-ins that took place in the 1980s at Albstadt-Degerfeld airfield. This year several Jungmeisters from private collections changed ownership and are back in the air. Therefore we would like as many Jungmeisters as possible to join the Jungmanns and Bestmanns and we invite all Jungmeister owners to come and show us their wonderful planes. We also invite all international Bücker enthusiasts to join us, even if they cannot come with their airplanes because they live too far away or on other continents. Degerfeld is located only 50 miles south from Stuttgart airport.
Organization:
Arrival of Bückers may start on on Friday. On Saturday and Sunday we will enjoy flying our planes. Together, solo, formations, whatever we feel like.
The Degerfeld aero club offers us to use all hangar space and the infrastructure of the field. About 30 Bückers can be hangared over night.
I will make hotel reservations nearby at reasonable cost, we also will organize transfer to the hotels.
The field offers camp grounds and facilities for those who don`t want to use a hotel room.
The restaurant at the airfield will be reserved for us and will offer food and drinks all weekend. It has a wonderful beer garden if weather cooperates. After flying we can use a projector and speakers for all kind of presentations so we can share pictures, videos or watch Bücker movies.
I believe that some of the participants of the 1980 fly-ins will join us even if they cannot come with their own planes any more. Those gentlemen are pioneers from flying times when military offered their Bücker trainers to Aero-Clubs or private parties. They all have great stories to tell. I want to encourage all of you to send me stories on paper, by email, videos, CDs or any other stuff that you would like to share with the Bücker community. Data, facts, technical documents, anything that is interesting for Bücker owners and pilots. Everybody is welcome to present Bücker material during our fly-in.
Klaus-Jochen Rieger is now very close to publish a new Bücker book that he created following the legendary book "Die Bücker Flugzeuge" by Erwin König. He will certainly join us and tell us about the immense work he did to put this great new book together.
Artur Düsterhöft of the Bavarian-Bücker-Formation-Flyers will present stories about their travels to the East and far North of Europe in their Bücker planes.
Please let me know soonest whether you will join our Bücker fly-in
and
let me know how many persons will join and whether you want me to take care of the hotel arrangement for you.
We are looking forward to welcome you and we hope that we will have the chance to exchange a lot of Bücker stories, experiences and expertise about our great Bücker airplanes.
Mit freundlichen Grüßen
Hermann Diebold + Jürgen Hüfner for LSV Degerfeld
Email: This e-mail address is being protected from spam bots, you need JavaScript enabled to view it
tel: +49-(0)7477-87133
work fax: +49-7477-871-53
Moble: +49-(0)172-7302781
Mailing address: Hermann Diebold, Konstantin-Killmaier-Weg 19, D-72379 Hechingen, Germany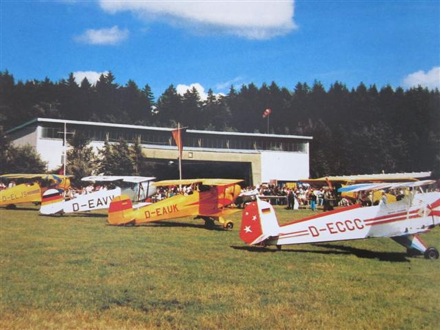 Liebe Bücker- Fliegerkollegen,

jetzt steht es fest, wir machen unser lang angekündigtes Bückertreffen

am Degerfeld im Geiste der legendären Treffen der 80er Jahre als sich bis zu 50 Bücker am Flugplatz getroffen hatten. Im Mittelpunkt soll dieses Mal die 133er Jungmeister stehen.

In 2013 haben mehrere flugfähige Maschinen aus privaten Sammlungen neue Besitzer gefunden. Es wäre schön wenn möglichst viele 133er zu unserem Treffen kämen.

Zur Organisation:

Anreise ist schon am Freitag möglich. Wir machen ein fly-in ohne offiziellen Flugtagcharakter. Dadurch brauchen wir keine Sicherheitseinrichtungen wie Absperrungen oder Feuerwehr und auch keine Zulassung durch das Regierungspräsidium. Wir können also vor allem frei fliegen wie`s uns gefällt, alleine, zusammen, Formationen einfach alles was uns Spaß macht.

Der Verein stellt uns die Infrastruktur des Flugplatzes zur Verfügung, für die Unterstellung der Bücker Flugzeuge stehen uns alle Hallenplätze zur Verfügung, so dass die meisten Bücker Flugzeuge (ca. 30) einen trockenen Unterschlupf finden werden. Übernachtungen sind in der näheren Umgebung in Hotels verschiedener Preisklassen möglich, der Transfer wird von uns organisiert. Die Hotelreservierung mache ich für Euch. Es könnte allerdings sein dass diese Übernachtungen bezahlt werden müssen falls Personen die reserviert haben, nicht kommen können und die Hotels die Zimmer anderweitig verkaufen könnten. Albstadt ist sehr aktiv mit Rad-Events und es könnte uns an diesem Wochenende treffen. Camping am Platz ist ebenfalls möglich.

Die Flugplatzgaststätte steht uns die ganze Zeit zur Verfügung, dort können wir uns mit Essen und Getränken verwöhnen lassen, die Gartenwirtschaft mit Blick auf den Flugplatz ist wunderschön, vor allem wenn das Wetter passt. Am Abend können wir mit Beamer, Leinwand und Lautsprecheranlage alles präsentieren was wir einander mitteilen wollen.

Von den Teilnehmern der Treffen der 80er Jahre werden wohl einige nochmals zu uns kommen, sicher nicht mehr in der eigenen Maschine aber sehr wohl als heute noch begeisterte Pioniere der Bücker Fliegerei der damaligen Zeit. Zusammen mit ihnen wollen wir deren Zeit wieder aufleben lassen und natürlich die Szenen von damals wieder in Erinnerung rufen.

Am Degerfeld ist die Bücker D-EFMH stationiert die früher dem Sänger Reinhard Mey gehört hat. Ich werde Reinhard Mey zu unserem Treffen einladen und hoffen dass er vielleicht zu uns kommen wird.

Ich möchte Euch auffordern mir Geschichten zuzusenden über Eure Bücker Erlebnisse die Ihr mit anderen Bücker Fliegern austauschen möchtet. Daten, Fakten, Bilder, Berichte, alles was interessant ist wird dann auf DVD zusammenfassen und an interessierte Teilnehmer des Bücker Treffens ausgehändigt. Wer interessante Geschichten hat und diese persönlich präsentieren möchte ist herzlich dazu eingeladen.

Klaus-Jochen Rieger bringt in Kürze sein neues Bücker-Buch heraus das er in der Nachfolge zum legendären Buch "Die Bücker Flugzeuge" von Erwin König verfasst hat. Er wird sicher kommen und über seine mühevolle Arbeit erzählen die zur Herausgabe seines Buches geführt hat. Artur Düsterhöft hat schon zugesagt über die spannenden Bücker Ausflüge mit seinen Kollegen nach Osten und in den hohen Norden zu berichten.

Bitte gebt mir möglichst bald eine Rückmeldung an untenstehende Adressen ob Ihr zum Bücker Treffen kommen werdet. Bitte nennt mir auch die Anzahl Besatzungsmitglieder und ob Ihr eine Hotelunterkunft benötigt. Wir freuen uns auf Euer Kommen und gute Gespräche, Austausch von Erfahrungen und viel Spaß bei uns mit Euren tollen Bücker Flugzeugen.

Mit freundlichen Grüßen

Hermann Diebold + Jürgen Hüfner für den LSV Degerfeld

Email: This e-mail address is being protected from spam bots, you need JavaScript enabled to view it
tel: +49-(0)7477-87133
tagsüber fax: +49-7477-871-53
Mobil: +49-(0)172-7302781

Post: Hermann Diebold, Konstantin-Killmaier-Weg 19, D-72379 Hechingen

---
| | | | |
| --- | --- | --- | --- |
| Bucker Prado working on Jungmeister parts | | | |
Written by Administrator
Saturday, 09 November 2013
Bucker Prado in Albacete have been working on some components for the Jungmeister. Here you can see the clevery designed oil pick-up tube, a completed oil tank, and the cowling mold.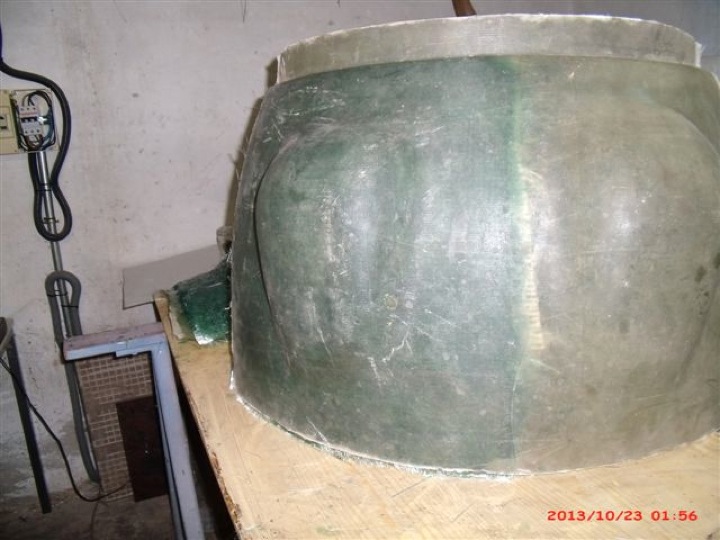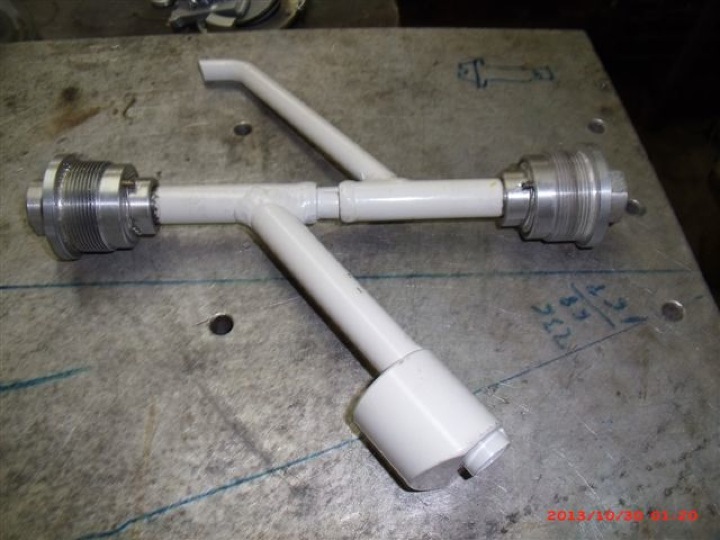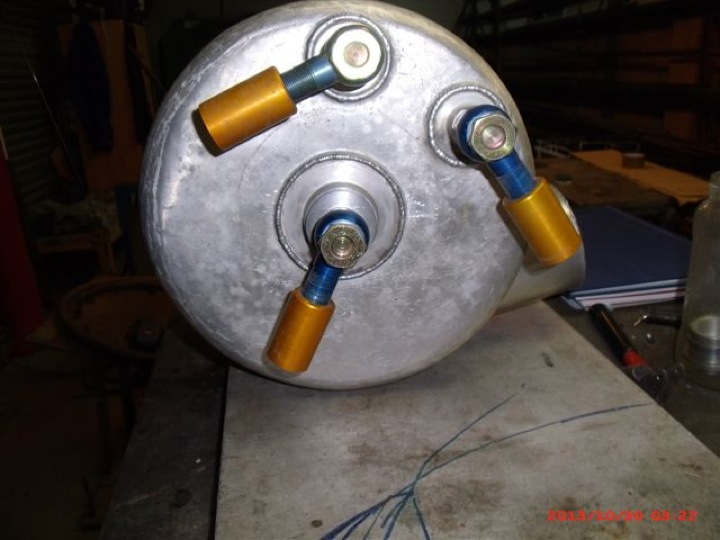 ---
| | | | |
| --- | --- | --- | --- |
| The last few flights of autumn | | | |
Written by Administrator
Friday, 01 November 2013
Here in the more northern lattitudes the open cockpit season is drawing to a close, but there are still some warm days to take advantage of. There was good flying in the mid-western states of the USA this week, and in South Central France the weather was nice enough for some formation flying.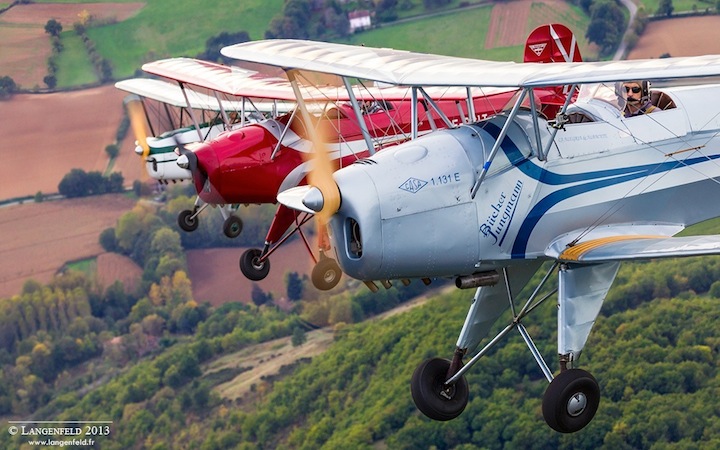 "We had a nice formation flight above South-West of France last sunday:

The white/green Jungmann is Jan Tutaj's F-AZPB
The grey/blue one is Nicolas Huard's F-AZYY
The red/silver one is Gilles Tatry's F-PGLT

Autumn weather is back now... We'll switch to annual maintenance soon."

Cheers, Gilles Tatry

---
| | | | |
| --- | --- | --- | --- |
| Autumn formation with LSA Jungmann | | | |
Written by Peter Funk
Sunday, 27 October 2013
We had the last warm autumn days here in Germany and completed a good part of the flight test program with our light sport prototype "OK-RUD" of the Jungmann.

Two owners of CASA and Dornier Jungmanns had the chance to become part of the testflight team. Both stated the handling and performance of the FK131 is pretty much identic compared to a original 105hp Hirth powered 131B or D version!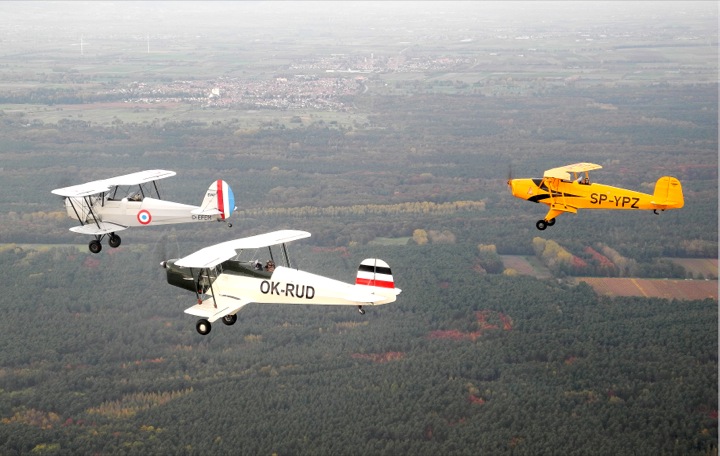 A nice formation flight last Friday together with a 105hp Minor powered Jungmann and a 145hp Stampe proved that all three planes were showing the same performance in cruise and in climb!

The next two FK131 Jungmanns will become ready for delivery in next weeks and all our focus is on production now in the nearby winter season…

Peter Funk

B&F Technik Vertriebs GmbH
Design, Certification and Customer Service for FK Aircraft
Anton Dengler Strasse 8
D-67346 Speyer
---
| | | | |
| --- | --- | --- | --- |
| Modern Navigation Systems | | | |
Written by Administrator
Sunday, 27 October 2013
Those of you familiar with ADSB in/out systems might be interested in this information from a book I just finished:

"The system employs ground based radar to survery the airspace and displays the information on a screen. The radar stations are located about as close together as current VOR stations The radar presentation is overlayed by a detailed low level map and the combined image is tramsmitted to a display in the aircraft cockpit.

Each aircraft in the area shows up as a tear-shaped blip on the display with the tail of the blip indicating direction and speed. A radial line on the display allows the pilot to determine which blip is his own aircraft. The pilot therefore has a low altitude chart in front of him at all times and can see his own progress as he travels along the airways, as well as the location of other trafic around him."

Why is this so interesting? Because author and aircraft designer Fred Weick saw it demonstrated by the RCA corportation in the fall of 1946. Sadly, the system (which was called "Teleran") did not find favor with the CAA who adopted VOR and OMNI systems instead.

---
Written by Administrator
Sunday, 27 October 2013
Not Bucker related, but a wonderful aviation video. This appears to be a modified instrument approach into Queenstown airport in the southern alps of New Zealand. The title says is all.

http://www.youtube.com/watch?v=7mxmFCw-Dig

Thanks to Len Elmendorf for sending this.

---
| | | | |
| --- | --- | --- | --- |
| San Diego formation flight | | | |
Written by Doug Bothel
Sunday, 27 October 2013
Patrick van Stiphout from Holland took this picture on Oct 5, 2013 while visiting Classic Hangers at San Diego Gillespi Field.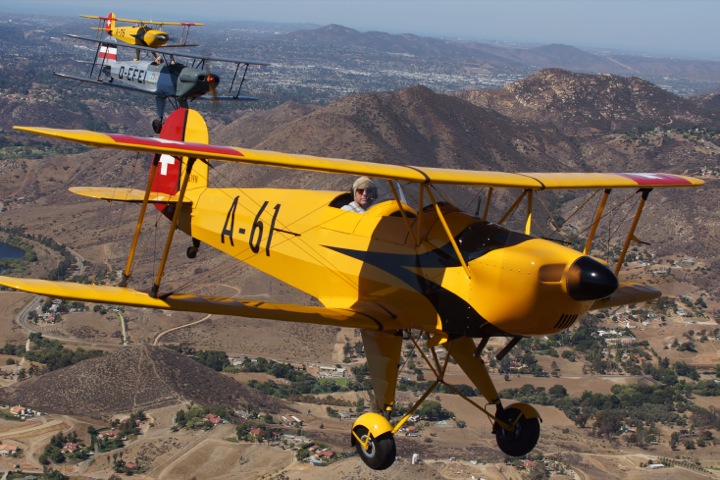 That's: Chris Overson in A-61, Mike Weaver in D-EFE1, Doug Bothel in A-76, and John Hickman in Jungmann photo plane leading the Flight of 4.

---
| | | | |
| --- | --- | --- | --- |
| Brian Karli visits Scotland | | | |
Written by Brian Karli
Sunday, 27 October 2013
You know, it is really nice finally meeting people whom you only known through emails and swapping Bucker parts. Today was that day.

Since my job took me to Newcastle UK, I was invited by Gavin Hunter to come and see his Jungmann. After two hours of driving north on the A1, we arrived at Archerfield. It was great shaking hands with Gavin and Tim Raynor who restored their Jungmann to pristine, original condition.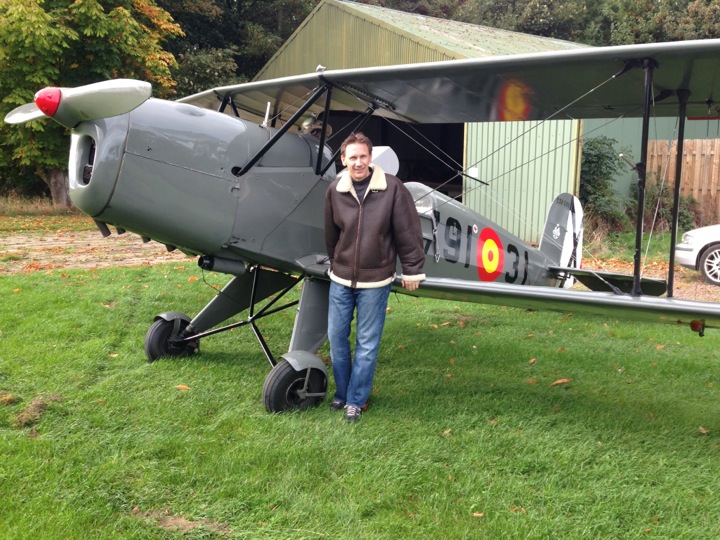 The jacket belonged to Tim. He loaned it to me. It's not quite as warm in Edinburgh as Atlanta, and I've grown soft.

We chatted about Buckers, flying and mutual friends. Eventually, Gavin persuaded me to go flying. Touring around the Scottish countryside in a Tigre Bucker was quite the pleasure. I could have stayed longer, but my crew came with me and dinner awaited back in Newcastle.

A big thanks to Tim Raynor and Gavin Hunter for making this trip memorable.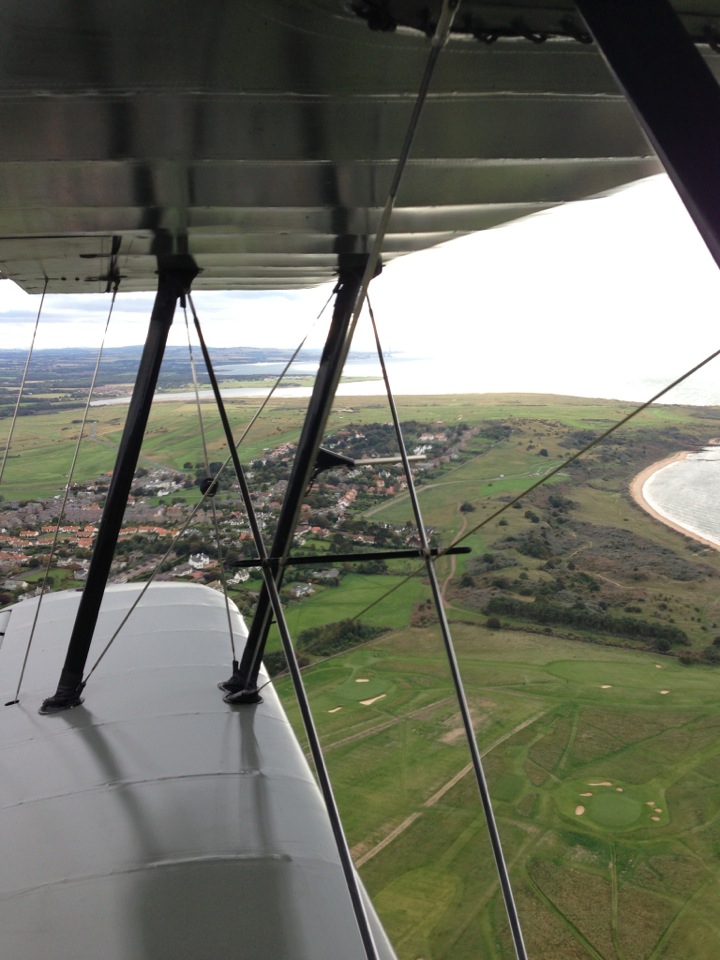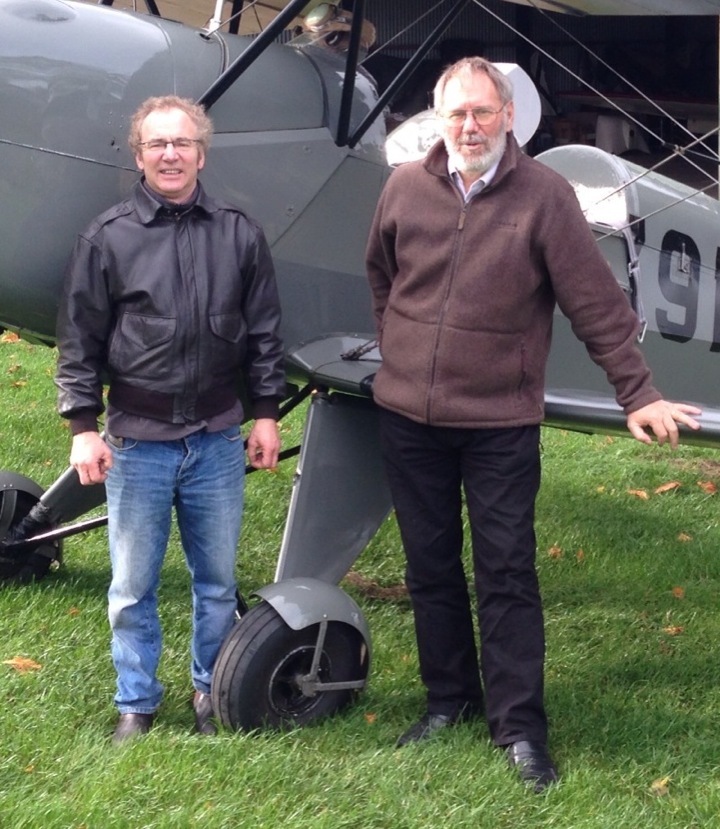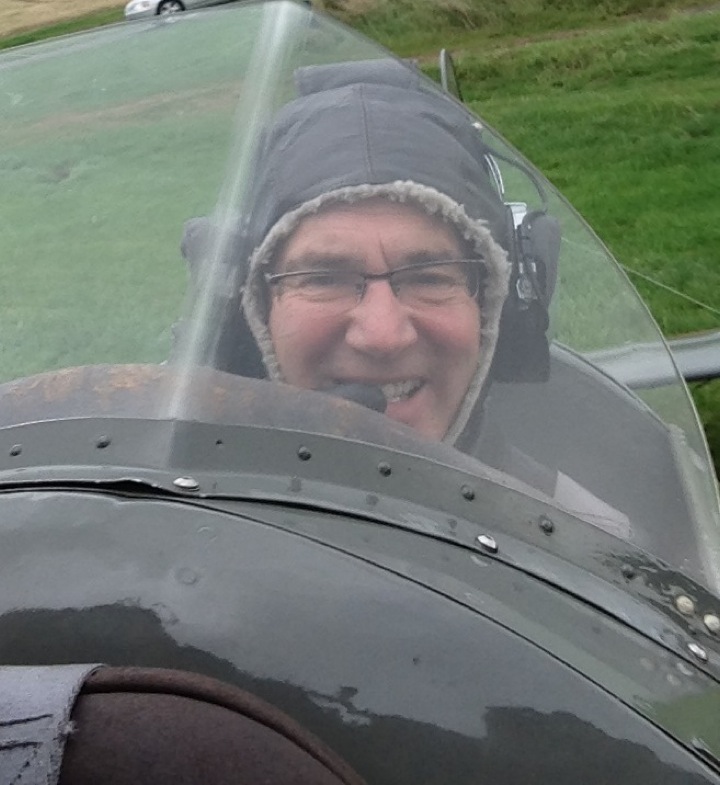 ---
| | | | |
| --- | --- | --- | --- |
| Bates/Miller Jungmeister leaves for France | | | |
Written by Administrator
Sunday, 27 October 2013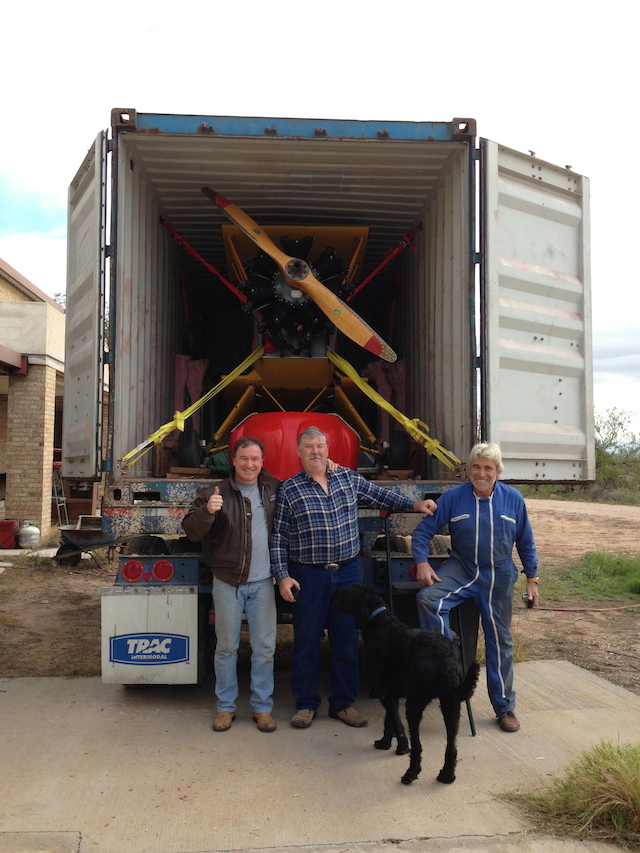 The Marcus Bates/Charlie Miller Jungmeister loaded and on its way to France with new owner bernard, Marcus Jr and Bernard's
friend on the right. The four legged helper was not identified.

---
Written by Len Elmendorf
Sunday, 27 October 2013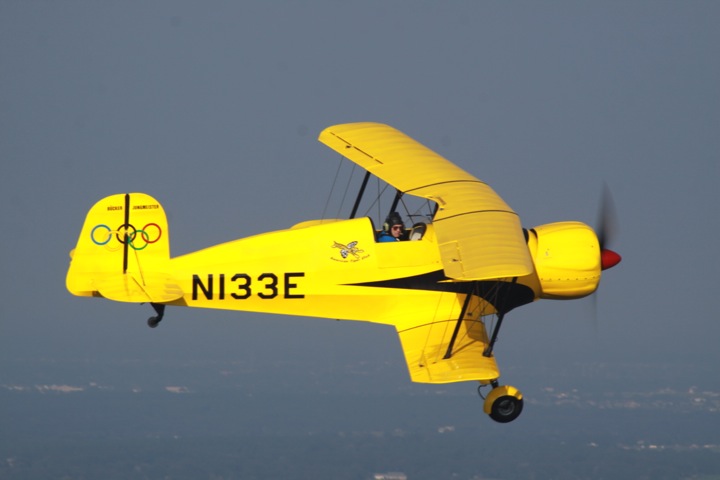 First I have to thank the people of the Bucker comunity. I first found about the group at a Thomasville flyin. I came in just behind 191X, which I had some experience with in the late 60's and early 70's. That led to the flyin at Live Oak. At the flyin I got my first look at a Joe Krybus drawing that Steve Hawely had with him. I then went to Jerry Wells place to look at Joe Vasile's Fuselage he was working on. There I got my second look at the Krybus drawings. I then got my contract with Joe and got his drawings, over 100 sheets with over 800 individual drawings. Now I had what I needed to make a true Jungmeister (or a Krybus special serial #1).

Next major help was the super website, thank you Steve. On the website I found my assembly manual, Joe Vasile's photos of his project. Then we shift to the west flyin. There I got many detail photos of John Hickmans and Steve Craigs originals. Next up was Pat Quinn, he talked me into the round cowl. Then back to Steve Beaver who got wind of my interest in the one called Antaries and sent me a link to some details of that and I got photos of Pappanas in its original configuration. From the two I got the details I needed to make my cowl.

I remember Jim Swick saying he used up a set or two tires driving to Frank Prices to look at details when he was making Goldie. For me it was a 13 minute ride in Mylane to Talmadge Scotts, who was just the right amount ahead of me.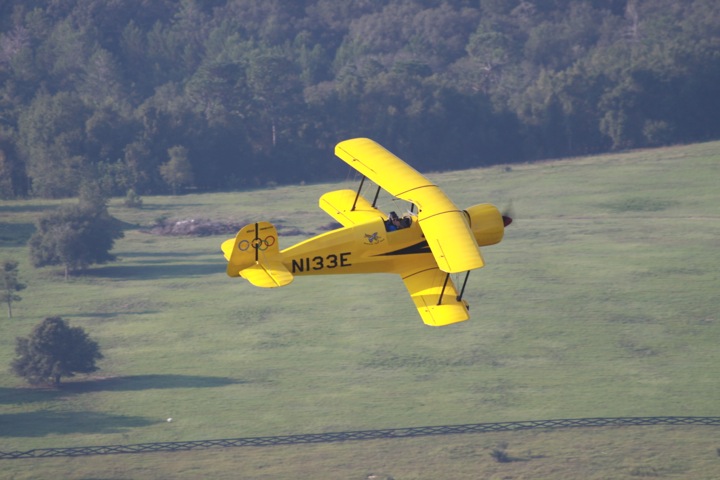 To the pilot report, I had my good friend Kim Kovack fly it. DAMN THIS THING FLYS NICE. NOW I KNOW WHAT THEY WERE TALKING ABOUT!! We talked about it some. There is no way to know what it is to fly a Bucker without doing it, so it is a waste of time to try to describe it.

THANK YOU ALL Len

---
| | | | |
| --- | --- | --- | --- |
| Ernie Gann's Jungmann N121 | | | |
Written by Administrator
Sunday, 13 October 2013
Over in the picture gallery there is a section for scanned magizine articles and there you will find a story by Ernest K Gann called "My Island in the Sky." As you would expect from one of aviation's most gifted authors, it makes good reading: My island in the sky.

(Brian Karli says that he wrote to Gann on several occasions and each time the author responded to his letter, sometimes sending him articles and other information. A special airman indeed.)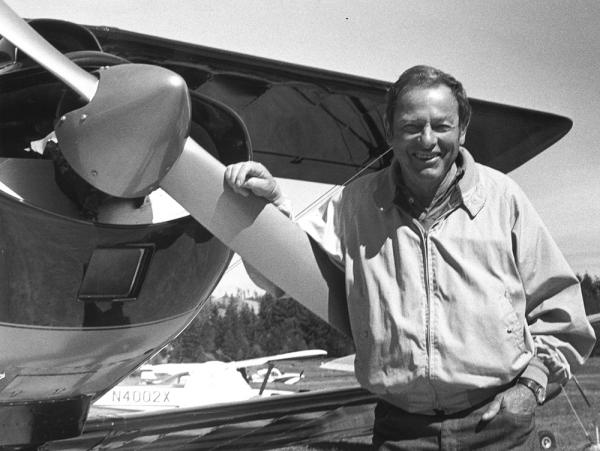 Ryan Perberton of Spokane, Washington has just completed a full restoration of Ernie's Jungmann N121 for current owner Mark Schafhausen and it recently made its first post-restoration flight.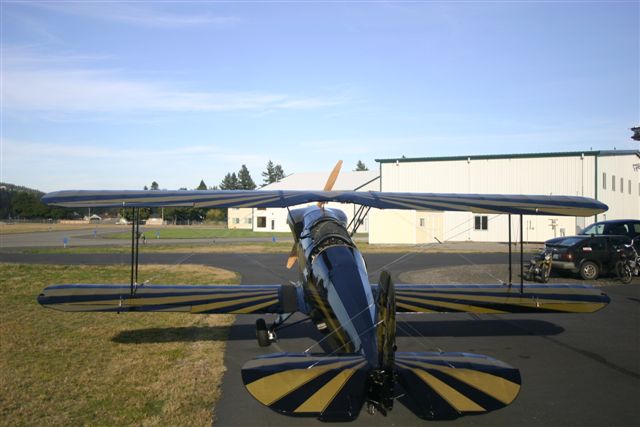 Ryan would like to thank those that helped the restoartion team through the project. "There have been hundreds of emails flying around as well as many posts on the board that have been invaluable. This really is a wonderful community!"

---
| | | | |
| --- | --- | --- | --- |
| Royal Air Forces Association Airshow | | | |
Written by Will Geenwood
Sunday, 06 October 2013
The Bucker 3 ship formation we did at Royal Air Forces Association Airshow at Shoreham in the UK on 31st August-1st September 2013.

Update: A viedo of the Buckers has been posted here: http://www.youtube.com/watch?v=z4IjUYbkVcs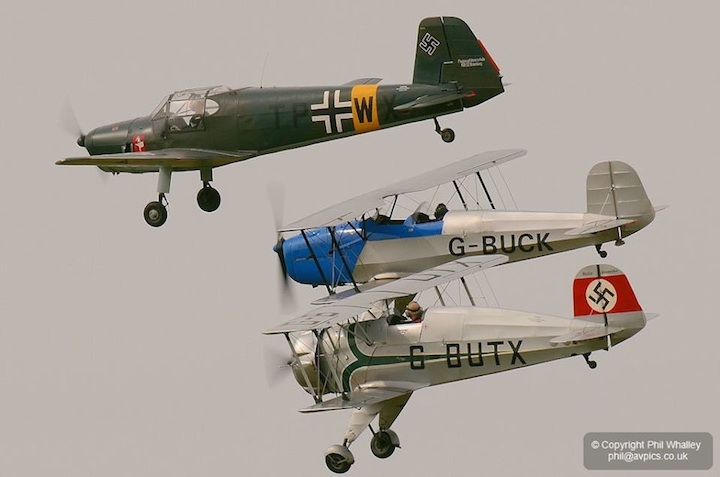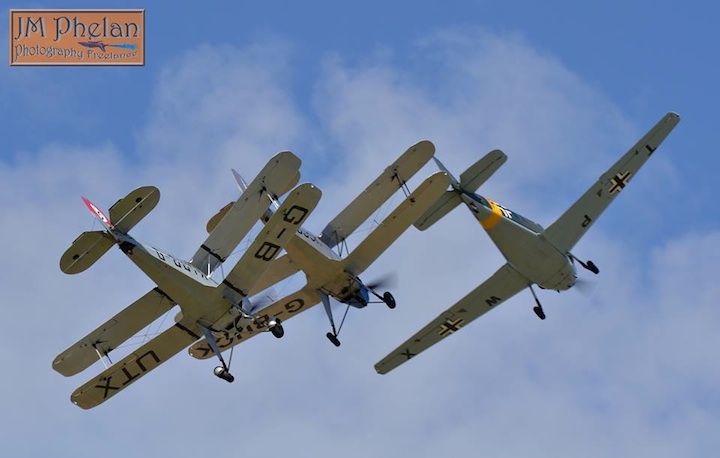 You can read more about the airshow here: http://www.shorehamairshow.co.uk/

Kind Regards Will Greenwood.

---
| | | | |
| --- | --- | --- | --- |
| K131 Jungmann at the 2013 Barnstomers BBQ | | | |
Written by Peter Funk
Wednesday, 11 September 2013
We were able to attend with our LSA Jungmann the 2013 "Barnstormers BBQ" in southern Germany at Montabaur airfield. Nice to see that in between lots of CASA Jungmanns and a few Swiss built Dornier Jungmanns only few visitors and pilots were able to identify the FK131 as a reproduction aircraft.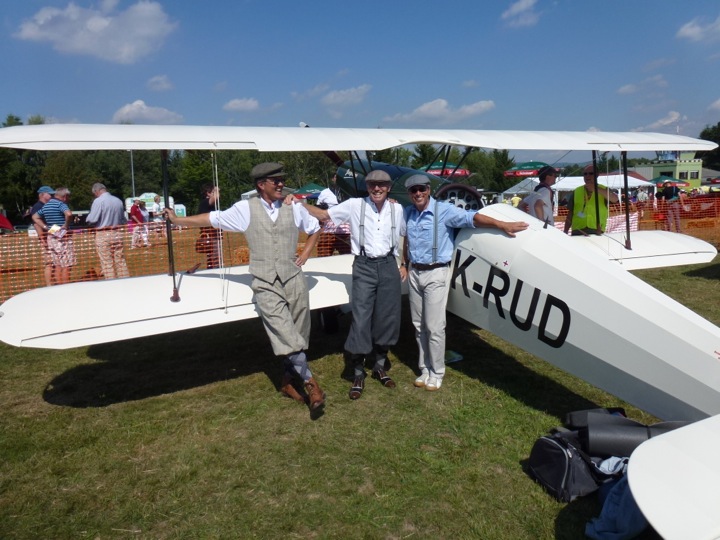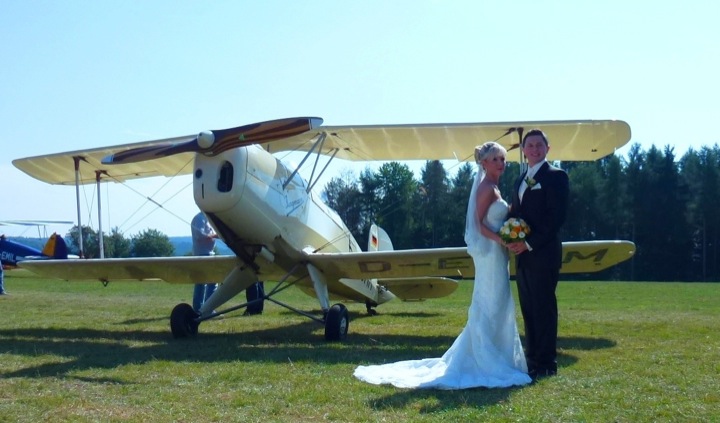 Over 100 classic planes made it to Montabaur at a beautiful warm summer weekend from August 17th to 18th. Many Bückers, as well as Focke Wulf´s, Stampe´s, Fieselers, Stearman´s and other were there. Many pilots and crew members were dressed in the style of the 30ths, old cars and even an old fuel station rounded the picture.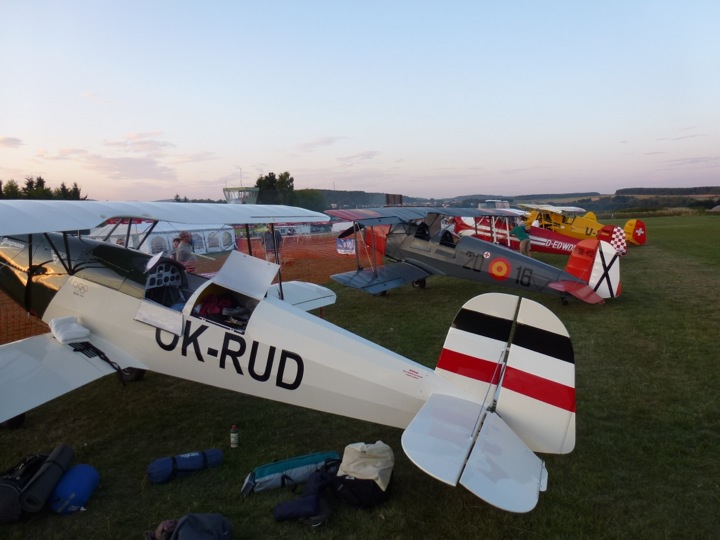 A very nice and perfect organized event – next time in 2015, it should be a "must" for each owner of an historic aircraft in Europe!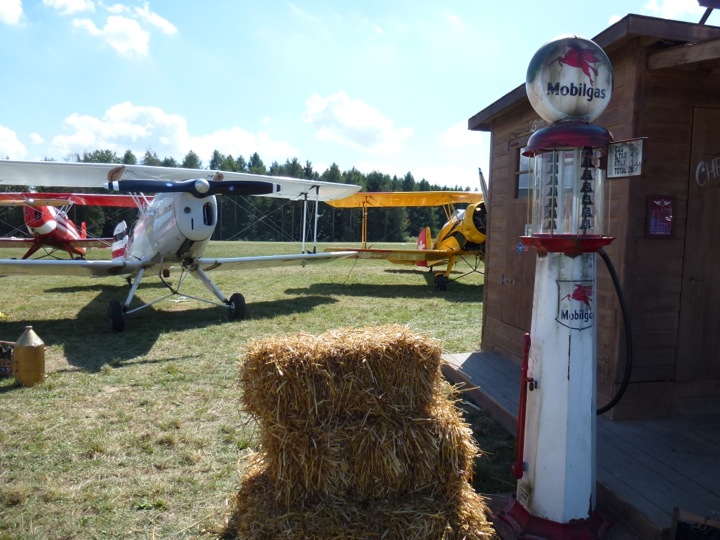 Best regards from Germany,
Peter Funk

Tel. +49-6232-72076
Fax +49-6232-72078
Mail: This e-mail address is being protected from spam bots, you need JavaScript enabled to view it
Web: fk-servicecenter.com

---
Written by Administrator
Sunday, 18 August 2013
Here in the USA Bückers are not "standard category" certified aircraft, so they must be registered in one of several sub-divisions of the "experimental" category. (Contrary to popular belief, there is no such thing as "just plain experimental") "Experimental - amateur built", "Experimental - exhibition/acrobatic" or "Experimental - exhibition/warbird" are the available choices.

I chose "amateur built" for a number of reasons: I really did build more than 51% of the aircraft (rebuilding the engine and building the radio from scratch helped me reach that mark), at the time I started the project the exhibition sub-categories had a number of restrictive geographical limitations, and most importantly, since I am now officially the manufacturer I get to decide the max gross weight, giving me the ability to choose a figure that is within the requirements for a light sport aircraft. When I get to an age that prevents me from holding a medical certificate, I may still be able to fly the aircraft. An FAA medical is not required to fly light sport.

This is all by way of introducing the fact that when a certificate of airworthiness is issued in an experimental category, some amount of time is assigned for testing during which the aircraft must stay within a designated test area, passengers may not be carried etc. The amount of time one must spend testing is at the discretion of the person issuing the certificate, but is typically 5 hours for an imported, flying aircraft, 20 hours for an amateur built aircraft with a certified engine, and 40 hours if the engine is not certified. - I got 40 hours. This seemed to be rather a long time, but at least the FAA were extremely generous in assigning me a test area of 100 statue miles radius from my base of operation. 25 miles is more typical and that would have been much less satisfactory. You really can't argue with 31,400+ square miles :)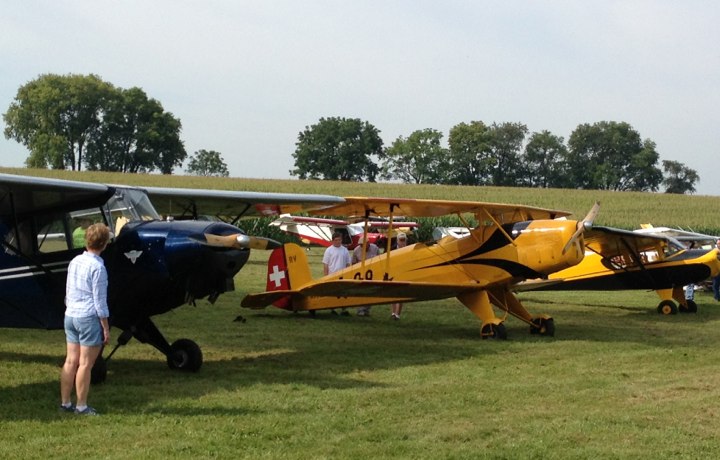 The Sport Aviation Association fly-in, Wynkoop airport, Ohio



Here is what happened during my 40 hours:

Before I even flew for the first time, I had a problem with a puddle of oil on the hangar floor. The result of a leaky strut seal. Taking the strut apart I found that the O-ring had been damaged at installation. There followed two weeks of frustrating work with O-rings of different sizes none of which I could persuade inside the strut cylinder without either sealing insufficiently or being damaged as the gland nut is tightened. It finally dawned on me that I was being an idiot. What it took was an O-ring of a smaller diameter. Installing it in the carrier stretched it slightly which in turn reduced the thickness slightly. After a couple more experiments the right compromise was found and no more leaks.

The first flight followed but with an adrenaline level of 112% I can only tell you that it flew, and there were no surprises. On the second flight, I was more relaxed and found the Jungmann was slightly left-wing heavy. I was able to tweak an aileron trim-tab to resolve this, but then the ailerons were not flying in exact alignment with the wing. That would not do. Worrying that this might be just the start of chasing adjustments I started by slackening the wires on the left wing, turning them by ½ turn and re-checking the tension. What do you know? - On the next flight it flew perfectly straight and level, hands and feet off the controls. Sometimes its good to be lucky. Now it was time to test a little more thoroughly. Trim at maximum speed, minimum speed, erect and inverted were all good. It must have been my really lucky day.

Next on the list was the elevator trim. I knew by now that the CG was about where I wanted it because I could just about get a stall break from a slow deceleration at idle power, and I could just about land with all three wheels touching at the same time, but the trim control was further aft than I would like. I reduced the height of the phenolic spacers under the leading edge of the tailplane by about 1/8" and flew again. It flew the same, but the trim control was now closer to the center of its range in cruise flight. Now though, we need to make one more measurement. With the elevator clamped so that it was exactly aligned with the tail, I cut a length of knotted string and tied it to the back of the front seat in such a way that the knot was precisely lined up with the top of the stick. In flight, I trimmed for level flight at cruise power and was happy to see that my knot still aligned exactly with the stick, thereby proving that the elevators were flying exactly level. Yay!

A couple more hours of flying followed with no particular schedule in mind, but just getting used to the 'plane and learning how she likes to be flown.

There is another airport within sight of my home base and they had a fly-in the next weekend. Seemed like a good time for N28Bu's public debut. Everything was checked over one more time and I set off for the nearby airport. Everything went well except that after I landed I was horrified to see the whole side of the aircraft covered in oil! The cause of this was not at all obvious. I could see no leaks, the oil level was only slightly down, and I could not seem to reproduce the problem. I flew the 5 minutes back to base watching the engine gauges very closely!

To cut a long story short, the problem was that the return line from the oil scavenge pump to the tank was too close to the tank breather port, and return oil was splashing in the vent. I re-positioned the vent and no more oil streaks.

A few more hours of flying and as spring sprang the oil temperature rose. Argh! Another problem. As reported here earlier, I obtained an inexpensive oil cooler (actually a transmission oil cooler) and installed it under the cowling. It slowed the temperature rise, but not the ultimate temperature. Still too hot on a warm day. Next, learning from Richard Epton's Bestmann experience, I made a bulkhead to separate the oil tank from the warm engine compartment as found on a Jungmeister. Now it took a little more time still to get too hot, but it was still too hot. OK, I give up. Time to do the job properly. A real, proper oil cooler (http://www.jegs.com/i/Earls/361/41008A/10002/-1?parentProductId=1676010) was installed in the lower cowling and an NACA style flush inlet of suitable size was cut. This surely would take care of the problem. Nope. Somewhat cooler, but not cool enough, and yet the oil cooler was large and the inlet generous. What could be wrong? Some mistake I made in overhauling the engine?

Then it hit me. The NACA submerged inlet was invented in 1945, the Jungmann in 1934. No wonder it didn't understand what to do. I made a simple old-fashioned scoop about ½" (1 cm) deep and attached it to the cowl ahead of the oil cooler. The oil temperature dropped by 40F (22C) and remained steady. Too good to be true? That's what I thought, but a thermocouple in the oil tank confirmed it. It really does work that well. So much for technology. I ended up reducing the size of the scoop slightly to get the temperature I wanted.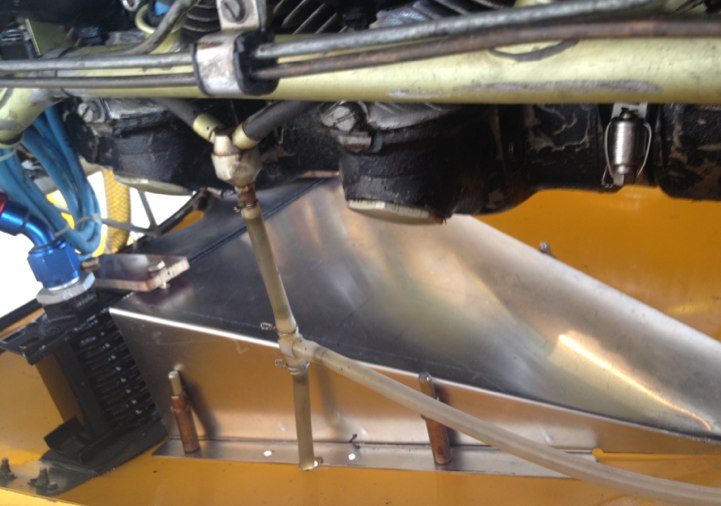 The "real" oil cooler



With the Jungmann in trim, not leaking, no longer puking oil down the side of the fuselage, and with the temperature just where LOM say it should be, it was time to get flying in earnest. I started going to fly-ins further afield and exploring the limits of my 100 miles radius. As time passed I started getting more and more confortable in the aircraft. Landings were becoming second nature and my aerobatics more accurate. I sent some pictures to the LOM factory in Prague and asked them for advice on a slight hesitation I was experiencing as the throttle is opened on takeoff. As documented here previously, they wrote back right away. They told me that my cooling baffles were out of date, and that my fuel injection system was a very old version and to ship everything back to them for update and calibration. After being updated, bench tested, and dyno tested, I received everything back from the Czech Republic early this summer and soon had it back on the aircraft.

More test flying ensued. Different power settings, different altitudes, different temperatures and much measurement. When it was complete I found that the engine was precisely in agreement with the books. 6.6 gph (25 litres/hr) and smooth at all power settings. I completed the spin testing to the left and to the right, both ways up, and attended a couple more fly-ins. I feel extremely comfortable with the engine and the aircraft now. A couple of friends have flown it and said the right things (its good to have polite friends) and I am thinking about taking people for rides in it.

Here's the interesting thing: Having now reached this point of comfort and seeming stability, guess what the tachometer/Hobbs meter says? - 41 hours! Grumble at them as some might, the FAA knows a thing or two!

---
| | | | |
| --- | --- | --- | --- |
| Breighton Bücker Festival | | | |
Written by Administrator
Thursday, 27 June 2013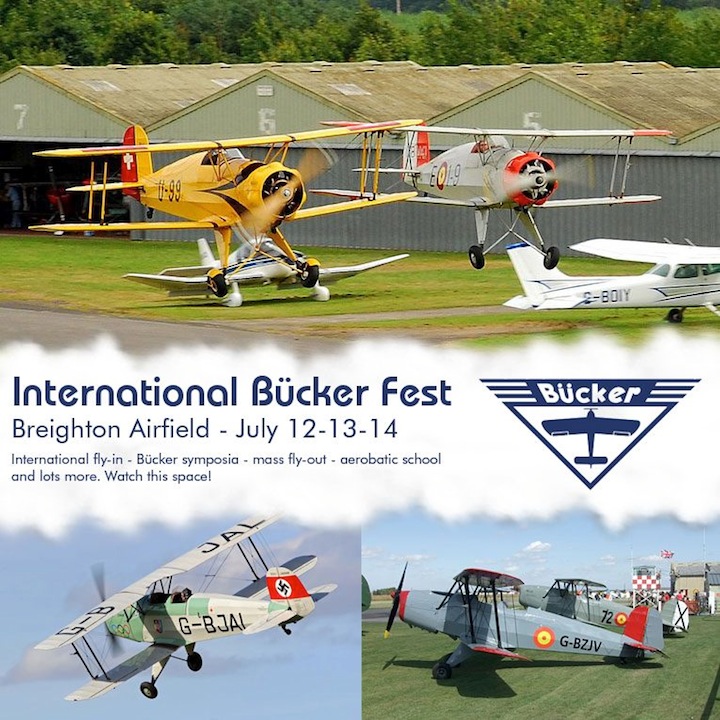 We're planning to hold a 3 day Bücker Festival at Breighton Airfield, UK, on July 12-14, which will hopefully be of interest to European Bücker drivers. The event will include symposia, aerobatic advice, formation flying, mass fly-out etc etc. Further details will appear in due course on our Facebook Page (http://www.facebook.com/realaero ) and our website (http://www.realaero.com ).

Cheers and happy landings,
David Butler
Real Aeroplane Club

---