Bob Grimstead
Captain



Gender: Male
Location: Perth, Western Australia or West Sussex, England
Registered: Dec 2006
Status: Offline
Posts: 1693







---

Posted Thursday, August 31, 2017 @ 08:39 AM

Hi Antti,

I am sorry, but that earlier photo storage provider did not keep the pictures indefinitely, as they had promised.

Yes, this 'torpedo' was made by Sportavia and is a factory option (like the cranked control column, the tail lifting handle and the aerobatic fuel cap) but I have no paperwork, and none of those things appears in the parts list, having been designed later, presumably.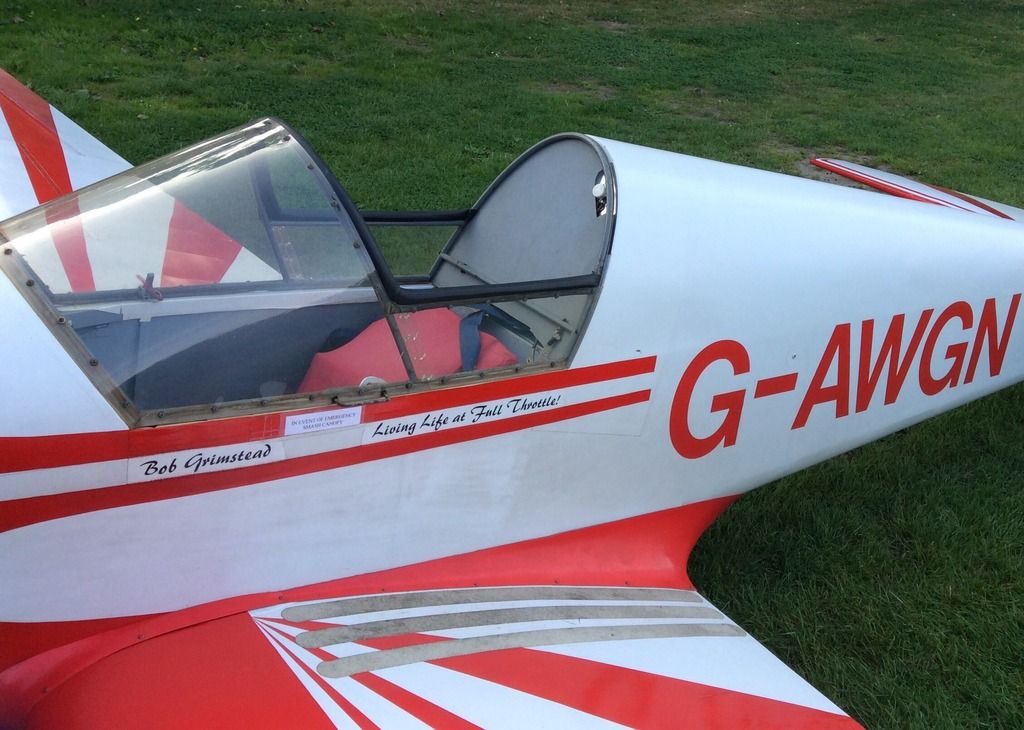 Having bought it in the dark days of winter 2013/2014, I only fitted it for the first time two days ago. I can now tell you that it is better than my Australian home-made one, being less draughty and providing much better illumination of the instrument panel. It does not seem to reduce performance in any way, my cruise speed still being 90 kts with fuel consumption still around 12 lph.
I shall probably (eventually) make a similar one for my Australian RF4D to replace this one.
I think that Dave Hook might still have a proper Sportavia open canopy (torpedo) for sale, but last I heard he was asking the crazy price of £1,000.
And I bet is doesn't have paperwork either!
I think I paid £200 for mine.
Dave's e-mail address: hookytb9@gmail.com
Good luck 😃
--------------------

Bob Grimstead
Captain



Gender: Male
Location: Perth, Western Australia or West Sussex, England
Registered: Dec 2006
Status: Offline
Posts: 1693







---

Posted Tuesday, September 5, 2017 @ 03:22 PM

...and here is a similar German one...
If I were making one now, I would not use the 4130 steel tubing that Sportavia used for these canopies. Or, at least, I would only use 4130 for the rear hoop, which probably doubles as a roll-over pilot protection hoop.
That 4130 is very hard to bend, and even harder to hit with your face in a crash.
The whole assembly is brazed.
I intend to modify my Australian one with a soft aluminuim alloy tube for the middle hoop — the one that your face would modify in any sudden deceleration. I shall probably pop-rivet that softer hoop in place so that the rivets shear and the hoop and forward decking crumple in an accident.
Those are just my thoughts in retrospect.
Yours, Bob
--------------------

Antti
Corporal



Gender: Male
Location: Finland
Registered: Sep 2009
Status: Offline
Posts: 26







---

Posted Tuesday, September 26, 2017 @ 10:12 AM

Thanks, Bob, for the info and the pics! Markku's cracked one seems to have the crack too much in front to be usable for the torpedo. I still have to think about it!

--------------------
***** RF4D OH-370 - RF4D OH-371 - RF5 0H-386 *****