---

Posted Wednesday, July 7, 2010 @ 08:02 AM

This post, like all my aerobatic posts, is specifically aimed at American, Australian, Canadian, New Zealand and South African operators of Fournier RF4Ds on Experimental C of As. Pilots flying Fournier RF4Ds on EASA Permits to Fly or British or EASA Certificates of Airworthiness without specific approval to fly flick/snap rolls should first consult their Permit or C of A limitations or Owners Handook to ensure flick/snap rolls are allowed in their airplanes.

For information, and to assist other owners who might wish to get this arbitrary restriction removed, here is a letter from RenÚ Fournier himself on this topic: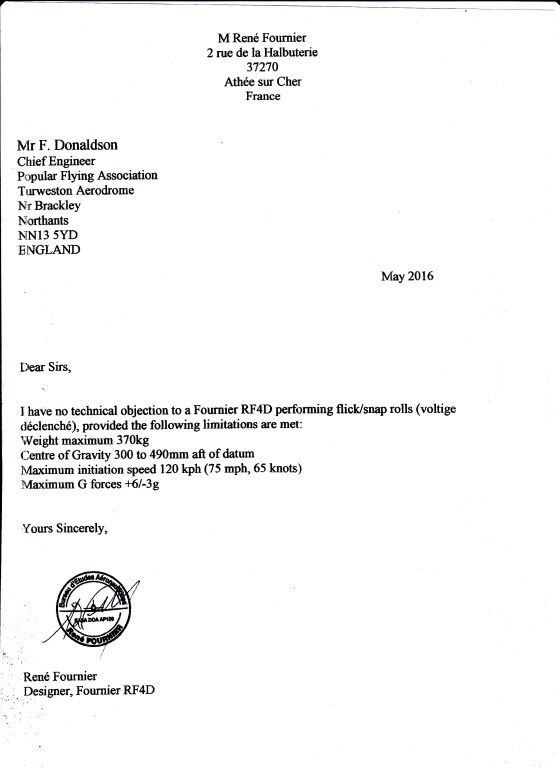 [/URL]
Hi Sam,
You/we have to be very careful here, because the Avalanche incorporates a snap/flick roll, and these are not approved in some RF4s. They are allowable in my Australian one because it is certified Experimental Exhibition, and in my British one, which has an EASA Permit to Fly allowing my particular Fournier to fly flick/snap rolls. That is after all why RenÚ developed the RF4 from the RF3. Unfortunately different certification authorities view these things differently, despite the aeroplanes all having been built in the same factory to the same standards.
However, we do know (because we have film evidence) that RF4s and RF5s (but not RF5Bs) have been flick-rolled /snap-rolled safely for more than forty years.
After establishing that this manuver is legal in your airplane, make sure all your fin, stabilizer, elevator, wing, aileron and rudder attachments are secure, not only to one another, but also to the wood within the structure. DO NOT SKIP THIS STEP. Snaps may only register 3.2g or so, but they impose significant torsional stresses on the airframe.
Rene's test pilot Bernard Cheauvreau told us, "Never snap roll above 120kph" Work this out for yourself, but I seem to remember that 120 kph is around 65 knots or 75 mph BUT CHECK THIS VERY CAREFULLY FOR YOURSELF.
I tried many level snap rolls, starting at maybe ten knots slower and working upwards to that kick speed.
I found that the stick wants to move sideways in your hand, and that letting it do so improves the snap.
I found that if you 'unload' the snap stops immediately.
I found that if your nose is at all above the horizon the snap will stop before a 360-degree rotation.
I found it snaps better to the right than to the left (although it can sometimes be more reluctant to recover).
I found that, to initiate the snap, you need simultaneous full back stick, full right rudder and full right aileron.
I found that, to stop the snap, you need simultaneous full left rudder and nearly full forward, absolutely centered stick.
I found that sometimes, for no apparent reason, the snap will continue rotating into a full-blown spin and turn through another 180 to 360 degrees (with consequent height loss) before stopping. I don't know why, it doesn't often happen, but it's scary when it does. I suspect that it mostly happens when the stick is not dead central laterally during recovery
For the Avalanche I fly a tight loop from 130 mph, pulling quite hard all the way around, so that the nose is just coming down towards the horizon inverted as the speed gets to snapping speed. Then I hit the 'initiate' inputs at precisely that speed and no higher.
A second or so later, just before 270 degrees of rotation, I hit the 'recover' inputs.
This is not a proper Avalanche, because the snap is not symmetrically disposed around the top of the loop, but rather starts at the top and finishes in a vertical nose-down attitude 3/4 the way around the loop (and nearly stationary in the air). However, to fly a more symmetrical one I would need to snap at a higher airspeed, and that would be madness in a 43-year-old airframe.
That's all I can say Sam, except 'Don't do it'.
If your airplane flies apart, your folks, your buddies and lots of other people, myself included, would be horrified and appalled.
Take care, think very hard about this, and talk it through with your folks before trying an Avalanche.
Yours, Bob
[Edit by Bob Grimstead on Wednesday, October 5, 2016 @ 06:03 PM]